By: Kaitlyn 
This past week was filled with such wonderful writing and contributions to our
Theme Week
. Thank you to all who participated!
Due to the fact that the past writings on this blog have been incredibly gorgeous, I felt a great amount of pressure to write something equally as affecting.
So instead, I decided to talk about something completely care-free: My Current Guilty Pleasures (T.V. Edition).
I am really prone to falling in love with T.V. shows that aren't seen as…I don't know, reputable as others for some reason. For example, my love for
The Vampire Diaries
is a little embarrassing, but what can I say? It's an awesome show!
This new television season, I've quickly become obsessed with two new shows that I'm sure you'd love too; give them a gander.
Agents of S.H.I.E.L.D.
I'm not the hugest Avengers fan in the world; I like it, but I wouldn't consider myself a fan-girl of it. However, I had to give this show a shot because it's Joss Whedon and everything he touches is magical.
I quickly fell in love with it after just one episode. Like most Whedon shows, the first few episodes were a little shakey but they have evolved into something awesome. Whedon once again crafts characters that I just want to be/be friends with/marry.
Skye is one of my new favorite characters on T.V. Her wit and snarkiness is just too endearing. Fitz and Jemma, two scientists, are gosh darn the cutest things ever. And Ward? Hello…new husband…hi….
This show reminds me a lot of one of my all-time favorite shows (another one of Whedon's),
Firefly
, because it centers around the same cast of characters and their relationships while they're on a plane. It's....
really
similar.
Reign
Okay. This one sounds silly. It's a new CW show that revolves around the storyline of Mary Queen of Scots and I think about 1% of the storyline is historically accurate. That being said, it's wonderfully addictive.
I am all for anything historical drama, so I had to at least check this one out. Here are my favorite things about it: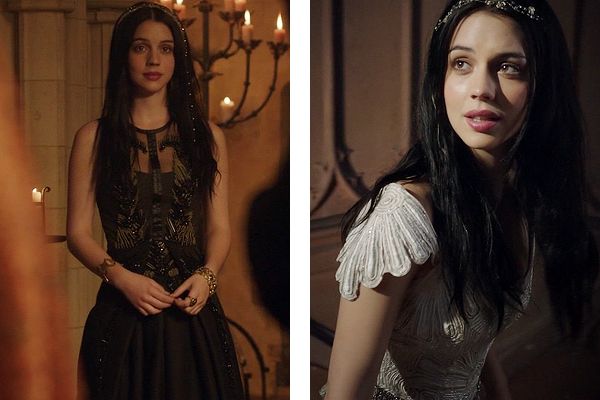 1.The music-The CW always has killer soundtracks for their shows. This one uses a ton of modern folk music as its soundtrack, which I love to no end.
2.The costumes-ARE AWESOME! My goodness! Every costume is so stunning each and every week on this show; I just can't get enough of it.
3. Adelaide Kane (Mary) is a fantastic emerging actress. I think she's really quite stellar. The way she talks and acts reminds me of Kiera Knightley.
4. Bash's eyes.....
So don't just discredit these shows because they look a little silly. They're not! Get ready to become addicted, my friends!
What are some of your current guilty pleasures on T.V.?